Our training tours continued informally during the winter, nice but cold. Therefore we already looked forward to tours dressed in "short-short" and we planned great things. We always go after the Easter holidays and due to other private appointments, this years camp ended up being April 18th to May 2nd. Mid April is high-season in Mallorca for bikers … it was quite full. On most smaller roads, that is not a problem, the island is big enough. But some of the "nice places", obviously are visited by almost everyone, e.g. Randa, Sant Salvador, Orient and the passes in the mountains, Sierra Tramuntana. But we are ourselves part of the biking tourism, i.e. nothing to complain about. And having your cake and cafe con leche in Petra on the central plaza is kind of very nice with 200 other bikers there 😉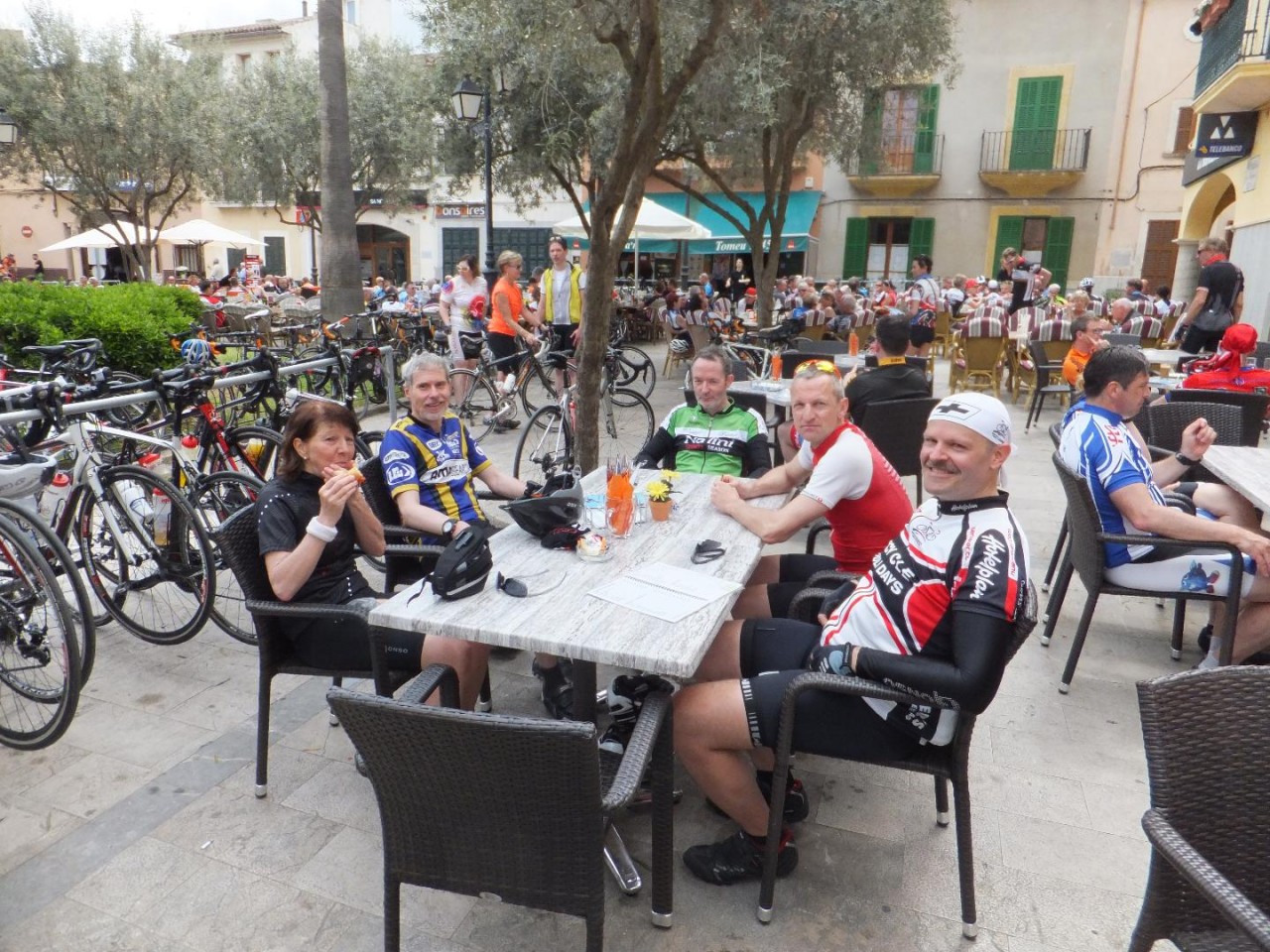 The weather was very similar for basically the full two weeks, between 19 and 22°C, sometimes only little, sometimes a bit more wind, but never too strong… ideal for a training camp. We started well, and quite fast. The first two days a bit more flat and high average speed, 82km / 750Hm (Hm=>Meters altitude) / 27,8kmh and 117km / 950Hm / 28,1kmh. On the third day, a bit more intensity with more altitude. I think that worked well, it allows the body to get accustomed, and everybody was able to follow and no muscle aches, all could recover for the next day.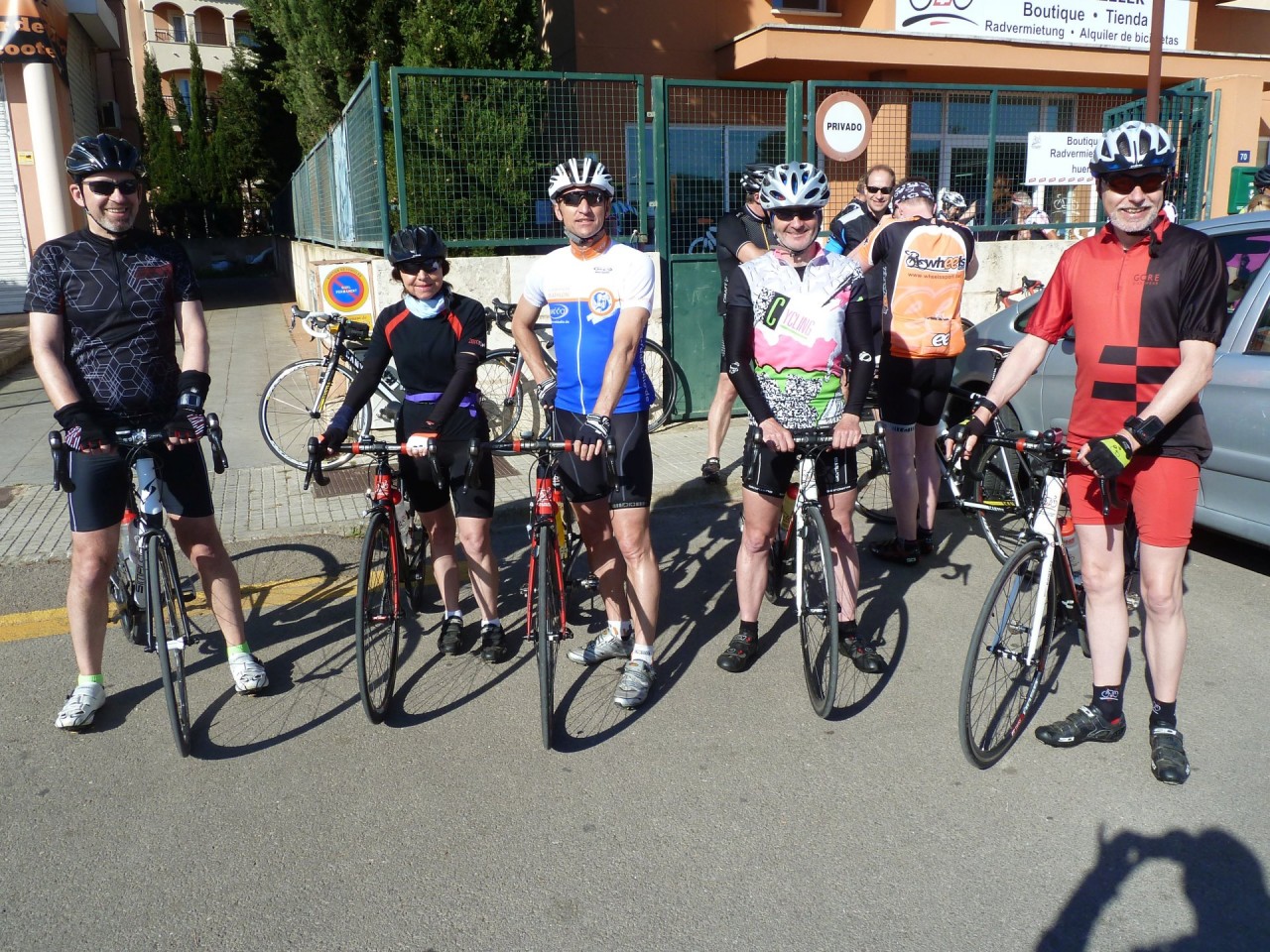 With an exception … I was hit with a cold, starting Monday evening with coughing. On Tuesday morning I felt so bad, that I had to pause for a day. Wednesday was a planned pause-day, which everyone used to recover and I did as well, with a small 45km tour. That went well, on Thursday I was back in game and was not much more impacted for the rest of the training. However I obviously "gave" my cold also to others, Hartmut and Jürgen got sick and Brigitte a little bit during the next days.
On Thursday we continued fully motivated. Already the last three years we wanted to take a bus to Andratx in order to check out the western part and the beginning of the Sierra Tramuntana and the "coastal classic ride". Never managed to do it … but this year. So we took the organized ride by Hürzeler, which departs at 9am. A small disadvantage for us, because we first have to cycle from Can Picafort to Paya de Muro, and be there at 8:30. So we had only a very rapid and short breakfast and packed some bread for the bus. But in the end, nothing to be nervous about, all went very well. It was not just one bus, they filled two large buses with two large trailers for bikes.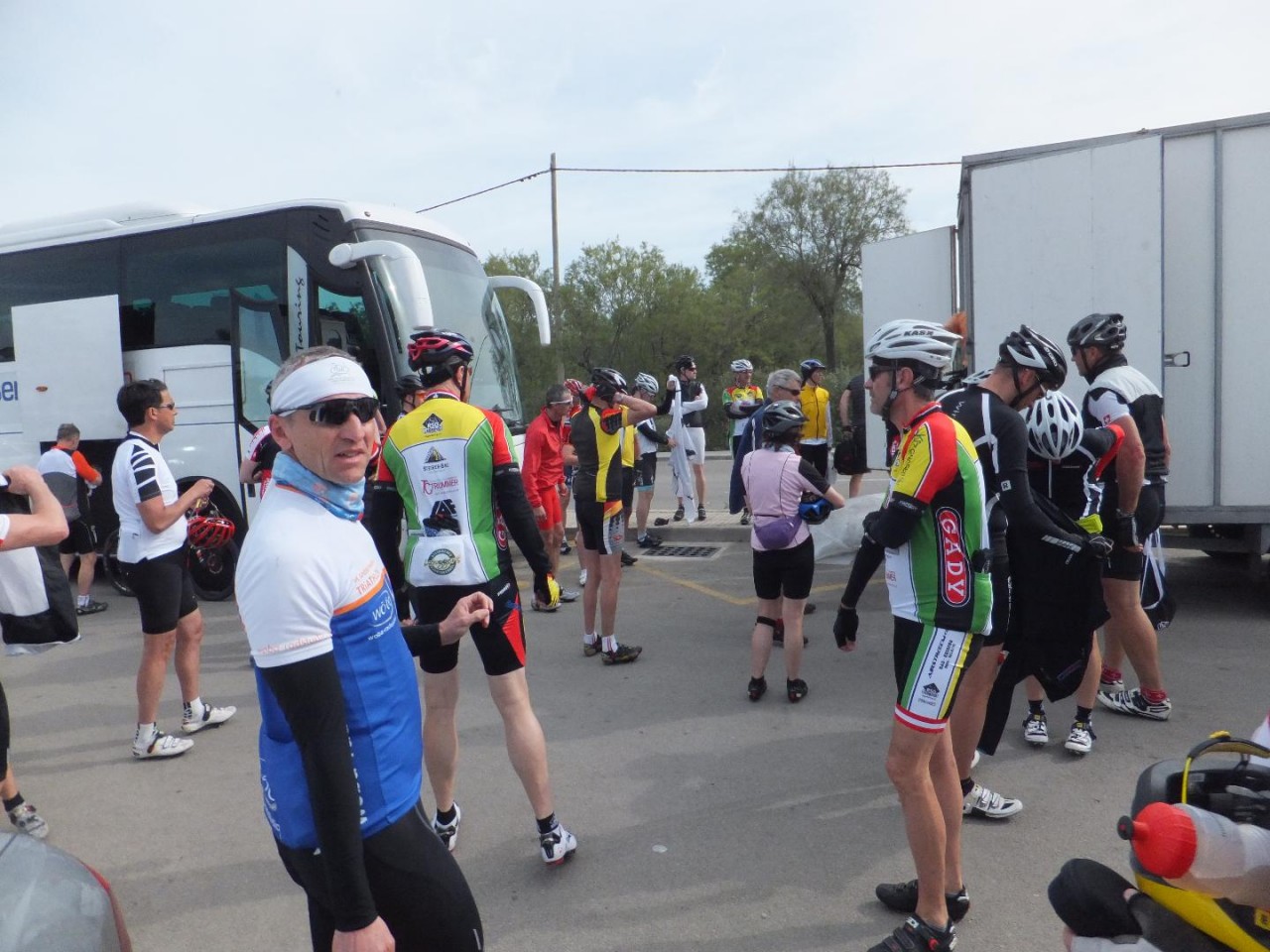 It would have been too early to do the coastal classics already in the first week, so we took the part to Valldemossa and then took the downhill to Palmanyola and continued through the central part of Mallorca. The bus ride has one disadvantage, you lose a lot of time of the day, we could only start at about 10:45 in Andratx, but this is the only way to get there in a sensible manner (riding there is 60-70km…). The route was really nice, so it is definitely worth the trip: the tour: 121km / 1800Hm / 25,1kmh.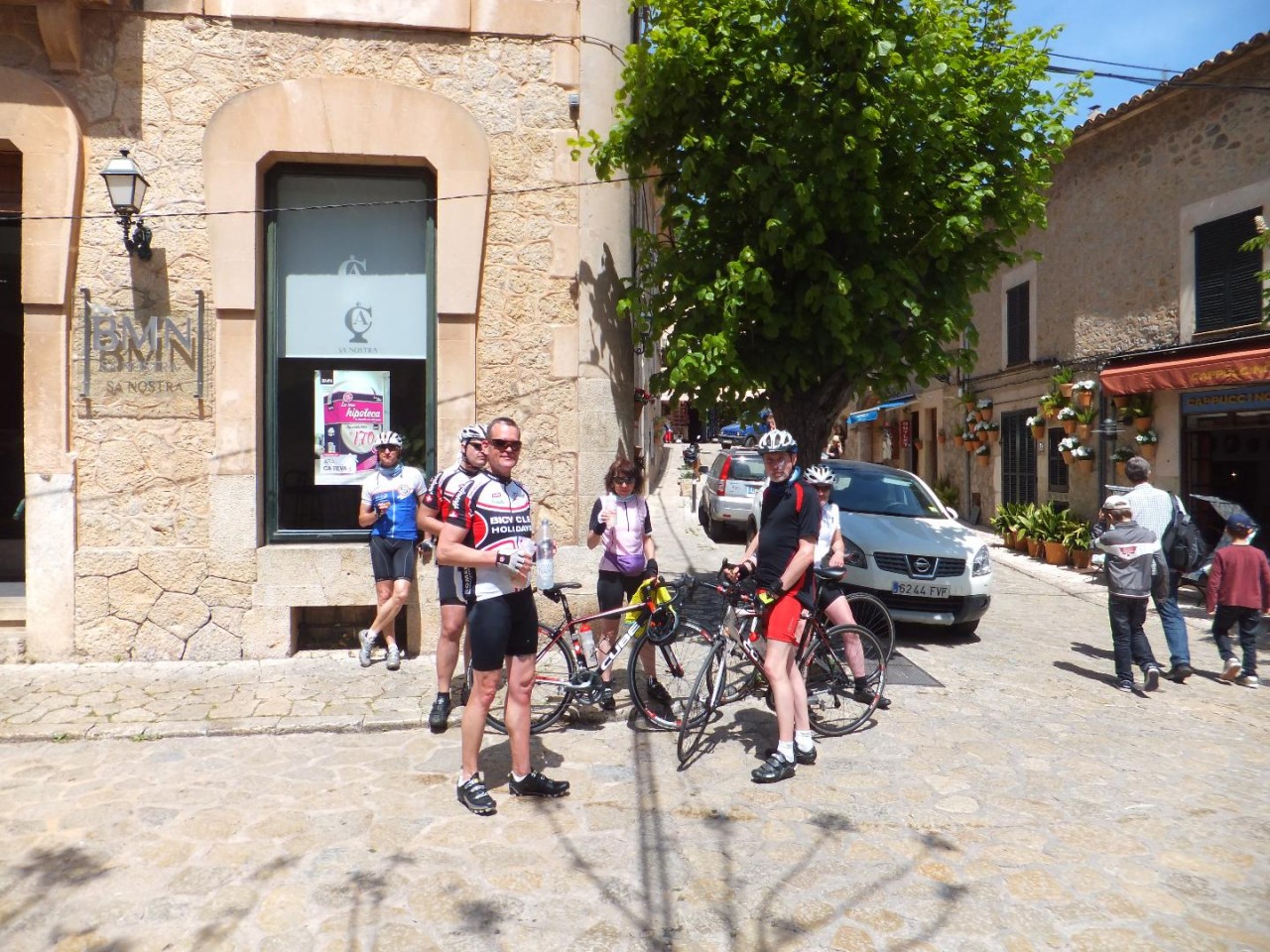 In the past years, we did not go to Cap Formentor, because of the bad road condition and the tunnel without any light, just not appealing. But this year: the road is freshly paved and there are reflectors in the tunnel … I was prepared and brought a portable lighting for my bike. So nothing to keep us away, except for some quite steep climbs … but we are here for the training, right? Well, definitely this is one of the nicest little tours and well worth the effort!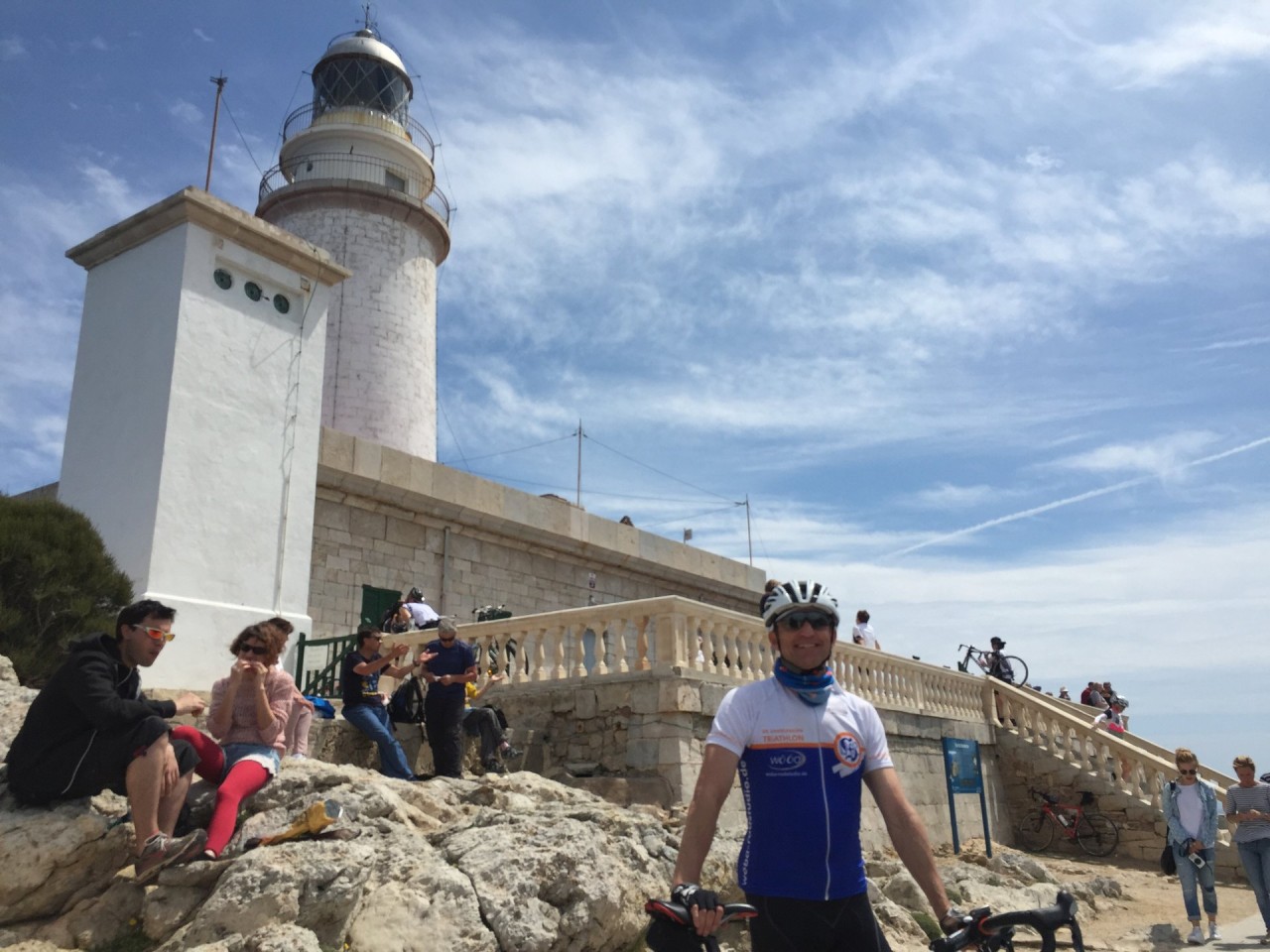 As the main tour ("queens stage") we did in the last years Soller – Ferry – Sa Calobra. This year another variant: we went to Soller, but then took the long climb to Puig Mayor and return via Monastery Lluc. The climb to the Puig is not as spectacular as Calobra (calobra is one of THE best climbs in the world), but quite strenuous and the ride through the mountains via the water reservoirs is really nice.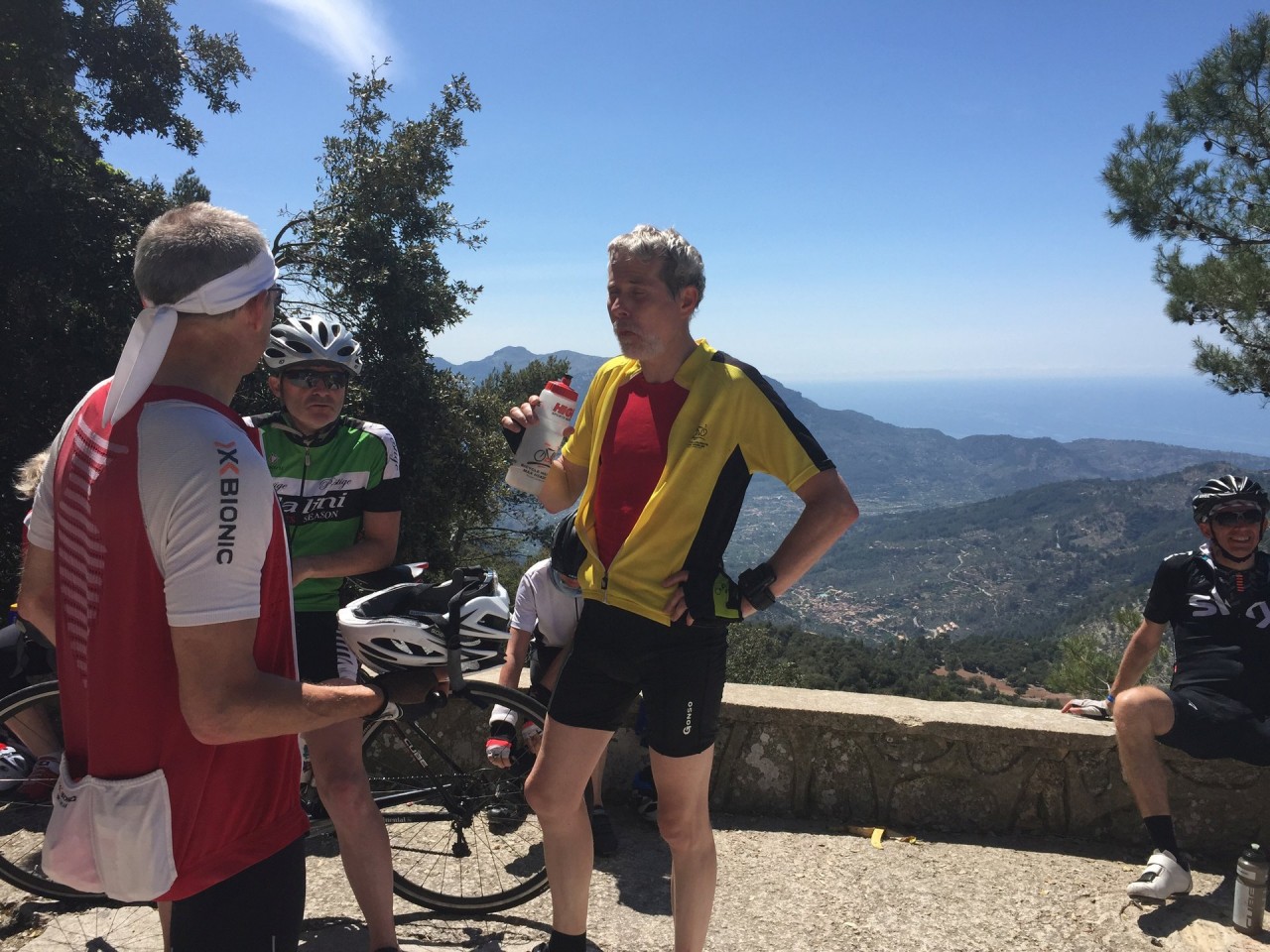 For those that are good enough, the crossing to Calobra is on the way, and Ralf actually took it, he went down to Calobra and rode up the Calobra pass! Fantastic!!! My legs were definitely not good enough for that. Our tour: 148,2km / 2.100Hm / 24,5kmh. For Ralf, you have to add about 20km and 900Hm altitude.
As resume: A great Training Camp!!! I'm already looking forward to next year 🙂
The totals will be slightly different for the participants, for I missed the Randa tour, Ralf did the extra Calobra pass … but all in all I think this was a very good result:
14 Tours
1.445 km
about 56 hours total cycling time
ca. 16.500m altitude
average speed about 25,7 kmh
And for those into Statistic, like me:
Saturday 18.Apr   – 82,1km – 27,8 kmh – 2:57:06 (riding time) – 750 Hm (m altitude)
Sunday 19.Apr.   – 116,7km – 28,1 kmh – 4:09:30 – 950Hm
Monday 20.Apr –  107,5km – 24,5 kmh – 4:21:53 – 1500Hm
Wednesday 22.Apr – 44,5km – 24,5 kmh – 1:50:00 – 350Hm
Thursday 23.Apr. – 121,1km – 25,1kmh – 4:49:00 – 1800Hm
Friday 24.Apr.       – 122,1km – 25,4 kmh – 4:48:32 – 1700Hm
Saturday 25.Apr. – 101,1km – 26,6 kmh – 3:47:55 – 1200Hm
Sunday 26.Apr.       – 65,0km – 25,5 kmh – 2:15:00 – 500Hm
Monday 27.Apr.  – 104,1km – 24,5 kmh – 4:15:23 – 1250Hm
Tuesday 28.Apr.  – 126,6km – 25,7 kmh – 4:56:31 – 1400Hm
Wednesday 29.Apr. – 105,8km – 25,1 kmh – 4:09:09 – 850Hm
Thursday 30.Apr. – 148,2km – 24,5 kmh – 6:02:48 – 2100Hm
Friday 1.Mai          – 113,9km – 26,3 kmh – 4:18:38 – 1200Hm
Saturday 2.Mai    – 86,7km – 26,7 kmh – 3:11:10 – 600Hm