This year I made a very special vacation: two weeks of hiking in the nature in Costa Rica! It was a trip organized by my Spanish teacher Elena, and she did a fantastic job in organizing this tour! With Elena we were 14 and we had a great time, saw a lot.
Before we could really start, we had to acclimatise and also get over the Jet-Lag, for me the Jet-Lag lastet only two days. But we came directly from the German Winter, with only 10°C during the day into tropical weather with 32-35°C during the day and 20-25°C during the night.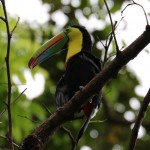 To start, we went directly from the Airport in San Jose to the Caribbean coast, to Puerto Viejo. To get accustomed, we had the beach directly across the road of our hotel. On the second day we did our first hiking tour in the national park Cahuita, where we almost had the impression to see all animals that exist in Costa Rica. Even though the park also had a beach open to visitors and used also by locals for relaxation, the park itself was "wild" enough to enjoy wild-life, except for some moneys directly at the beach (there are always some stupid people who ignore the 100 signs saying "do not feed the animals").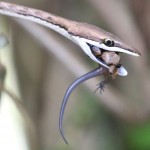 From there we continued to Tortuguero. This is a quite remote place, although mostly living through tourism, brought by the National Park. There we met Barbara, a German Biologist, who is living there for more than 15 years. Next day early morning at 6am, she took us on a canoe tour into the park. She showed and explained us all the wild-life and biology there. After a late breakfast, we continued with a 3 hour walking tour through the park. Two fantastic trips!
The paddling and walking together with my photographing at 32°C and 99% humidity made it quite strenuous, probably never sweated that much in my life before. Only beaten some days later. The fantastic, very tasty and cool fruit drinks ("batidos") later for lunch however … were not such a clever idea. In the night after, I got some "indigestion". On the next day (a transport-day to the next location) I felt quite weak, but fortunately it was over after one day.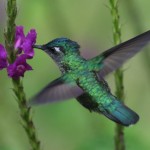 We continued our trip to Arenal, and the National Park Volcán Arenal. The Arenal Observatory Lodge is situated on top of a hill with fantastic views, including view to the volcano (currently dormant), and with hummingbirds flying in the park directly around the lodges. The area around the hotel has many kilometres of hiking trails  very much accessible for own tours. This part of the country is located already in the mountains. So from that perspective, the temperature is not so high, around 25°C, still very much pleasant, often with a little bit of wind.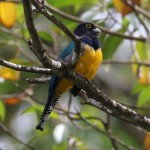 With a local guide from the Lodge, we made a first tour on the next day, directly around the lodge, very nice tour. Then we took the bus to the National-Park and made another hiking tour there. As this is located in the mountains, at an altitude of about 1300m, the landscape and the forests and plants are quite different from the hot-wet climate of the rain-forest at the Caribbean coast.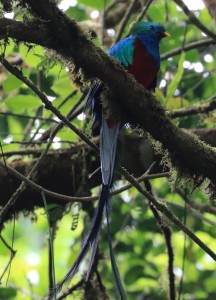 The national park Monteverde was the next station of our tour. Situated so-to-say on the other side of the mountains. The usual weather direction in Costa Rica means that we changed from a rain forest to a cloud forest area. Also here we hired a local guide, first appeared to be a quite serious person, but turned out to not only be very knowledgeable, of course, but also explained in a humorous way all the wild-life, flora and fauna, around us. But before he could even start, there was a sighting of a pair of Quetzal birds. People go there just to see them, and won't find them for days. But we got to see them when entering the park. Really Fantastic! This is a quite rare bird species, that was already admired as a holy bird by the Maya and Aztecan. At the park entrance there is a kind of hummingbird feeding station. Although I must admit that I think such tourist attractions are questionable, I also admit that seeing a dozen hummingbirds at 2m distance (and taking fantastic pictures) is indeed a great experience. I really love those birds!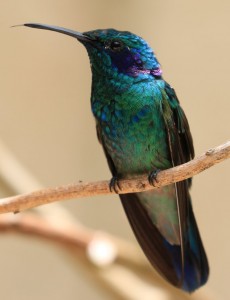 We also made a hiking tour over rope bridges in the park. The trail follows the side of hills with some ups and downs and crosses the valleys via hanging rope bridges. From there you can view straight into the treetops, which you normally only see from the bottom. A quite interesting viewpoint for a change. Muy interessante 🙂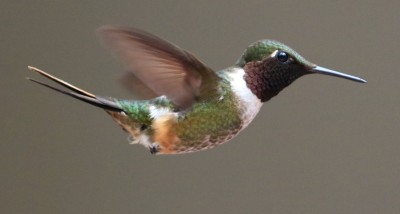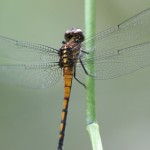 Another contrast: from the cloud forest back to rainforest at the Pacific Coast at Montezuma. Temperatures at 36-38°C and almost 100% humidity. You can only look for shade, but you sweat even if not moving. But the "not moving" part, we couldn't do, we made another hiking tour in the national park Cabo Blanco. Although this time I left my camera backpack in the hotel and only took camera with the normal lens. Better for hiking, although I missed the tele-lens a few times. At Montezuma we also had a relaxation day, where we went with the boat to the Isla Tortuga, where we had a nice lunch and the opportunity to do some snorkelling.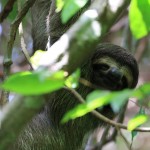 From Montezuma on to the last station in Manuel Antonio, also at the pacific coast, with a king tour in the national park with the same name, Manuel Antonio. Oh boy, never in my life did I sweat that hard. 38°C, high humidity … this time with full camera equipment … I almost melted away … but it was worth it. We took very much time to intensively watch the wildlife there… monkeys, birds, lizards of all sorts. It was really fantastic!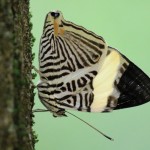 A small side-topic … the roads in Costa Rica: well, actually the roads are quite good. But it felt like 75% of the time we went over gravel roads. But really bad gravel roads, with pot holes the size of a Smart car. Our bus was at the borderline of what it could tolerate (and beyond), so were we.
This is a small price … for a really great country, for friendly people and fantastic nature! And once more thanks a million to Elena who organized this splendid trip, and also to Xavi our local guide, who showed us so much and also organized a lot of things every day.
My photography statistic, I took around 4500 pictures, sometimes difficult environment, with birds, monkey, reptiles behind bushes and moving foliage. With a 100-400mm focal lens, you have to experiment a bit. So in the evenings I screened and deleted pictures and brought back 1500, out of which with a big screen at home I sorted out about 950 "good ones". I made a little picture gallery with the "Best" 165. I would say that I have about 20-30 "wow" pictures there. I think that's a splendid result for a photo-amateur like me. So it was worth it also from that side 🙂