After the planned break, it first continued to rain on Friday. But it stopped around mid-day so we started at 14:00 and then the sun also came out. So we visited Eremita Betlem, that we missed on one of our first tours. On the way back we tried a "new" route and must have missed the bike-road. The "road" we then had to endure for 10km may only be used as a mountain-bike test-terrain, not suitable for road bikes. Anyway, day's result: 111,7km with 1650m altitude and 23,9 km/h average speed.
Then the first top tour: Valdemossa and Soller, so over two passes. This year we did not go via the "bike road" because of too much cyclist traffic, we chose the main road from Sineu to Santa Eugenia… very good pavement and fast to go although a few meters altitude to do. The climb to Valdemossa is good, not too steep. The town is really nice, but as it is so nice, that there are too many tourists there.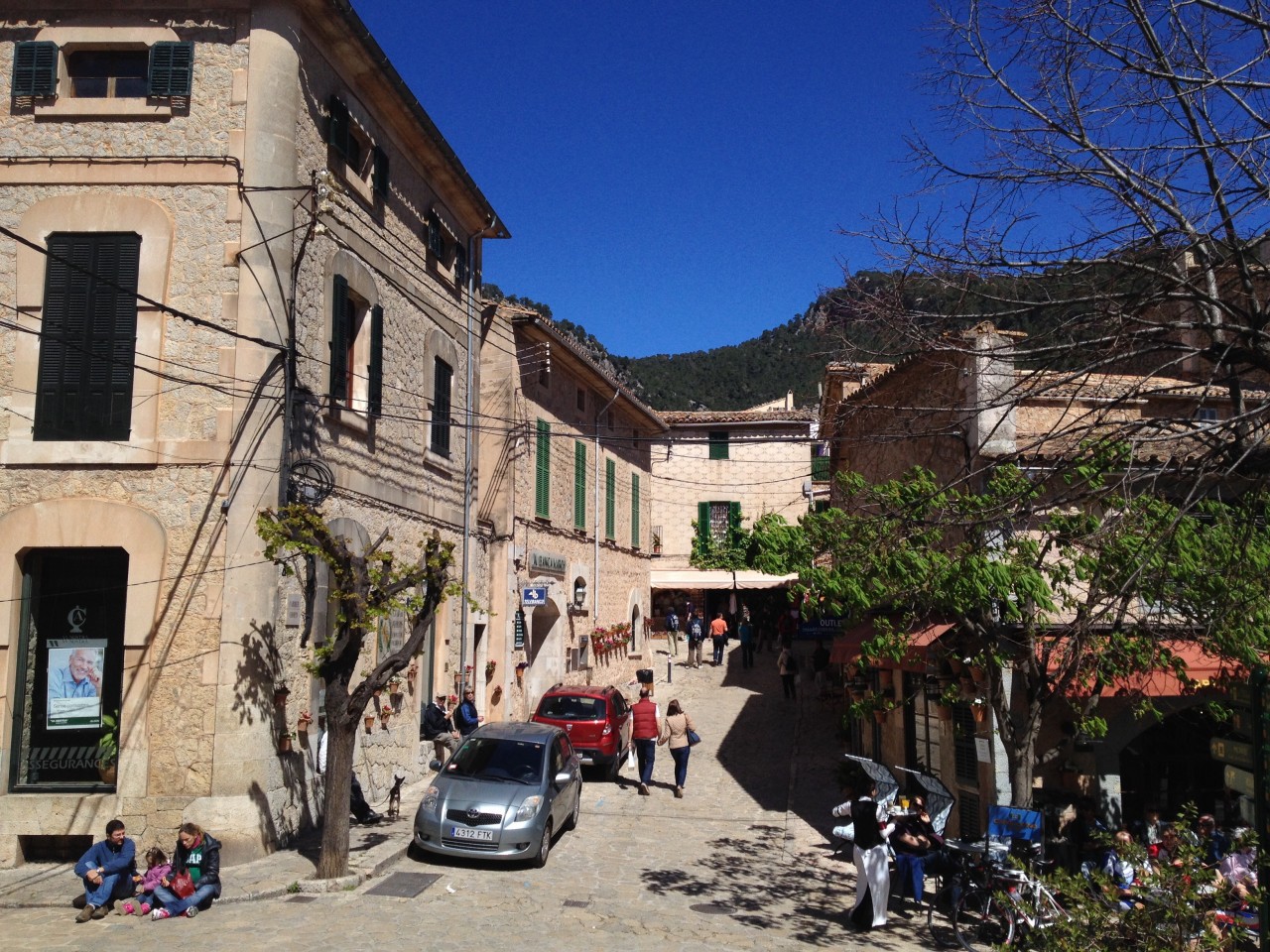 Then we continued via Deia to Soller, I was a little frightened of this section as the up/down/up/down can really kill you in the mountains. But that was not the case: just one further climb directly after Valdemossa and then the route is flat and downhill all the way to Soller. 🙂 Now the Soller-Pass, for me the first time in this direction. It is a little steeper this way, but still OK to ride.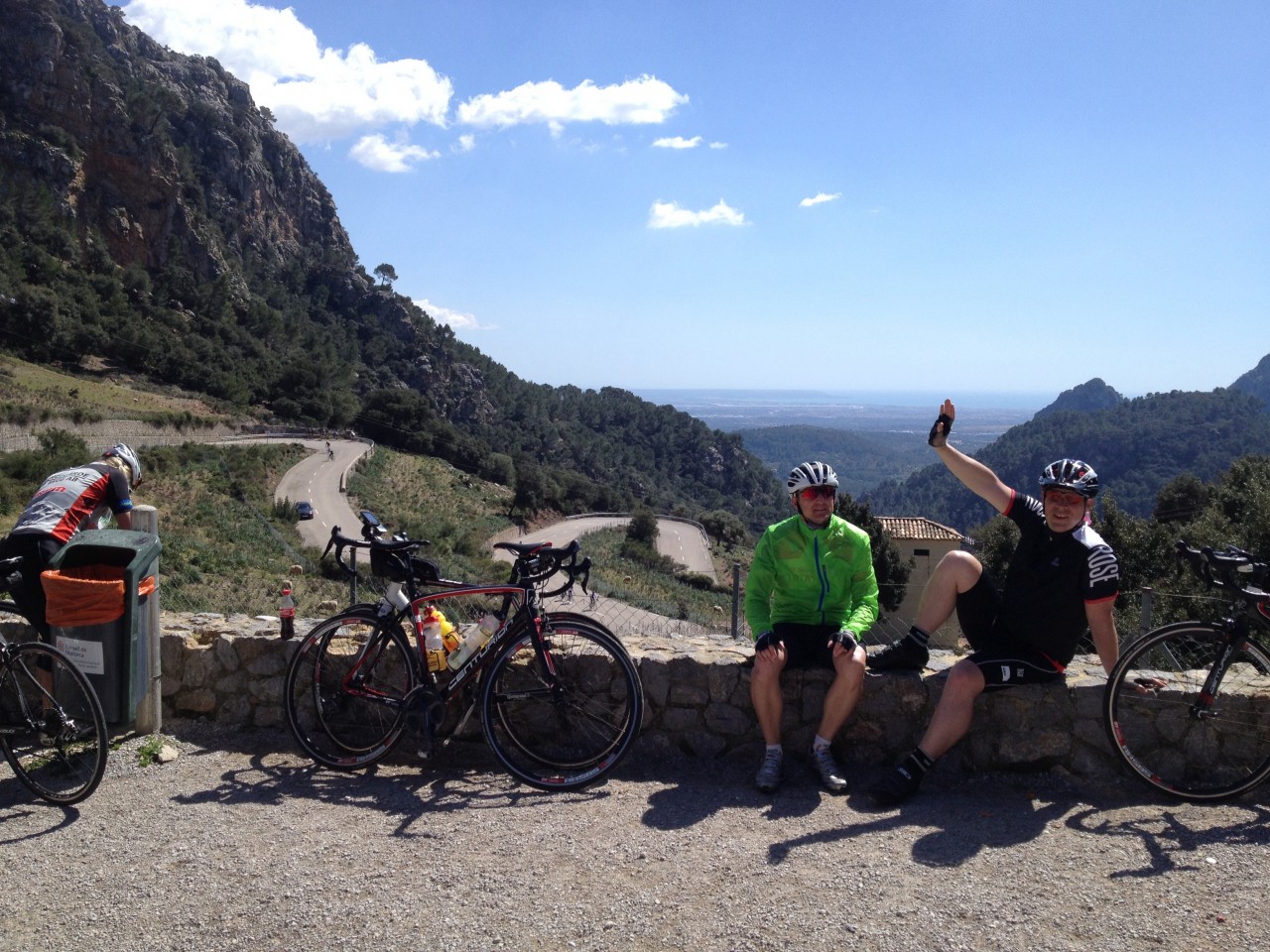 So this was the first top tour: 160,5 km with 2100m altitude and 24,2 km/h average speed.
After such a tour, next day needs some "recovery-training": going again to the coast (Colonia Sant Pere), in the mountains there would anyway be too much traffic on a Sunday. As flat as possible and a coffee/cake break in Petra. The day: 110,5 km with 1290m altitude and 25,4 km/h average speed.
Monday: second top tour! As this was such a great tour last year, we repeated the same as in 2013. Again (as two days earlier) via the highway to Bunyola and over the Soller-Pass. FOG! We did not get the best day. Due to the fog, it was really cold, on the ship we had to sit inside as it was freezing cold outside. It looks like we started much earlier last year, we just arrive at the harbor around 12:40 … just in time to get the ticket. Never mind: in Calobra there was also fog, but after the first 50m altitude behind, we were above fog and could continue the climb in the sun with pleasant temperature. Not such much sweat… but heavy breathing anyway, with 7% average rise and 700m altitude. Such much breathing that on top, I just thought about calming down, buy something to drink and forgot to take photos. Therefor picture from last year: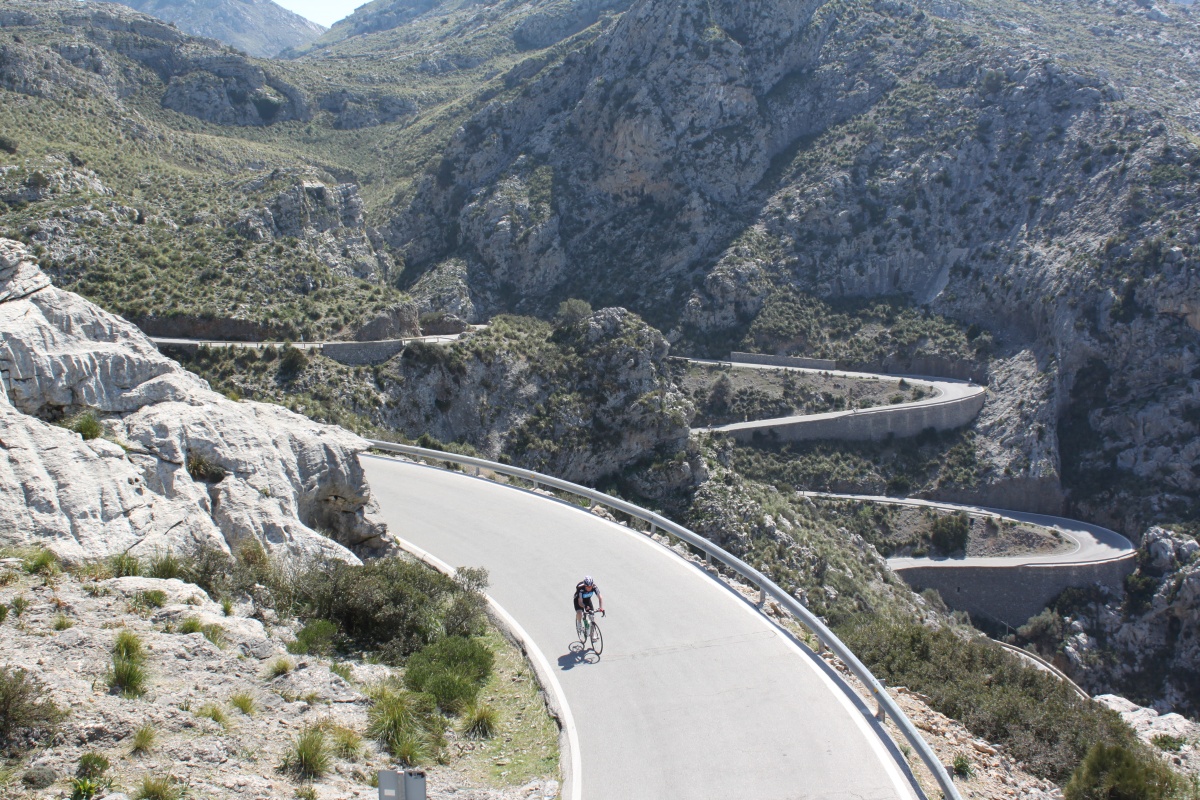 On the way back, we shortly visited the Monastery Lluc for a quick break. The day: 143,4 km with 2140m altitude and 22,8 km/h average speed.
For our small group, Tuesday was the finishing tour: trip towards Cap Formentor, but only till the first platform, as the total tour would have been a bit too much for the day. Something left for the next time…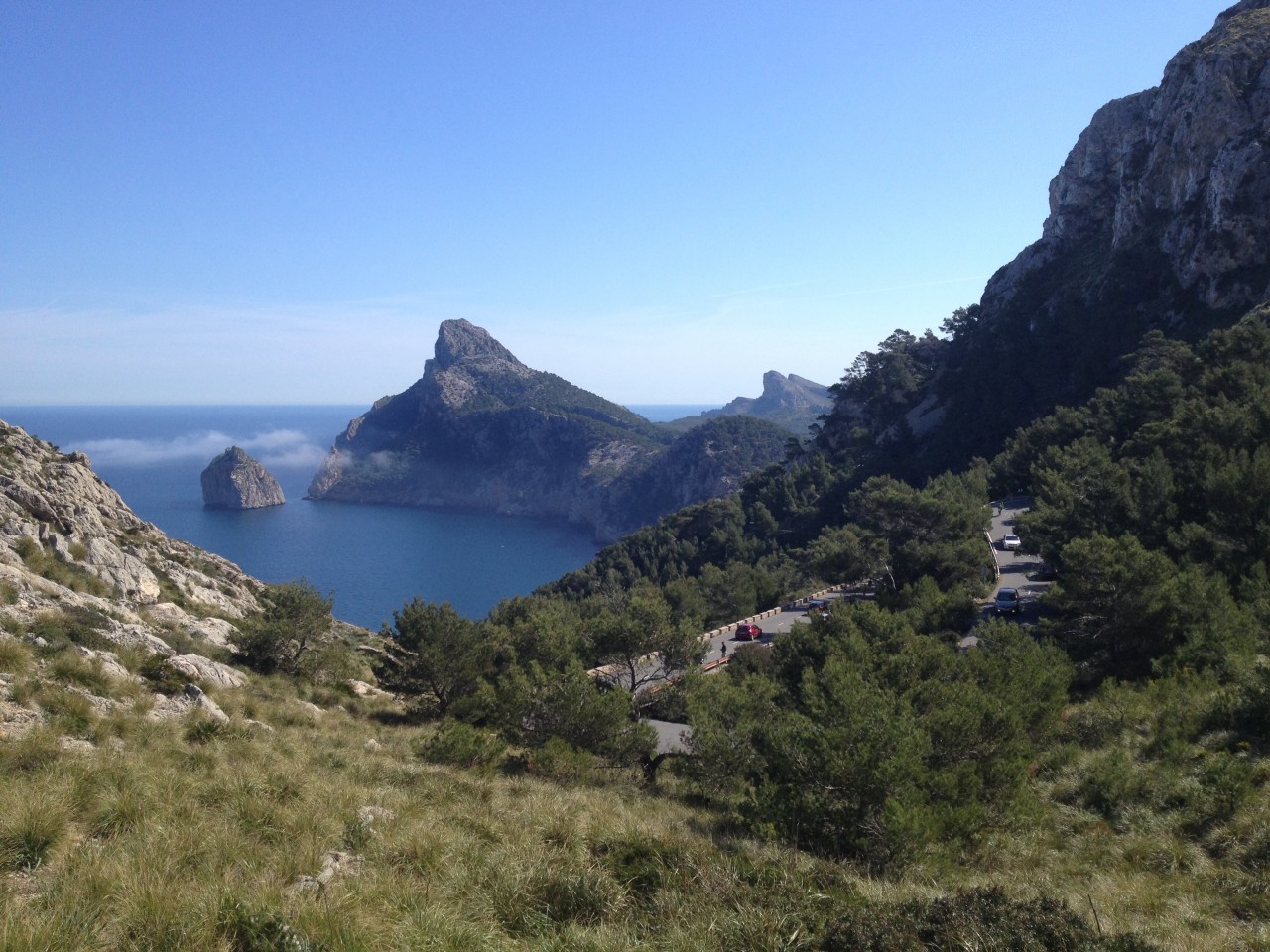 The day: 104,7 km with 970m altitude and 24,1 km/h
As Jürgen, Andi and Ralf traveled home Wednesday, I was left to do a small tour in my own speed… I chose again the Monastery Lluc, but with time for sightseeing. But for that I first had to go over another pass from Caimari: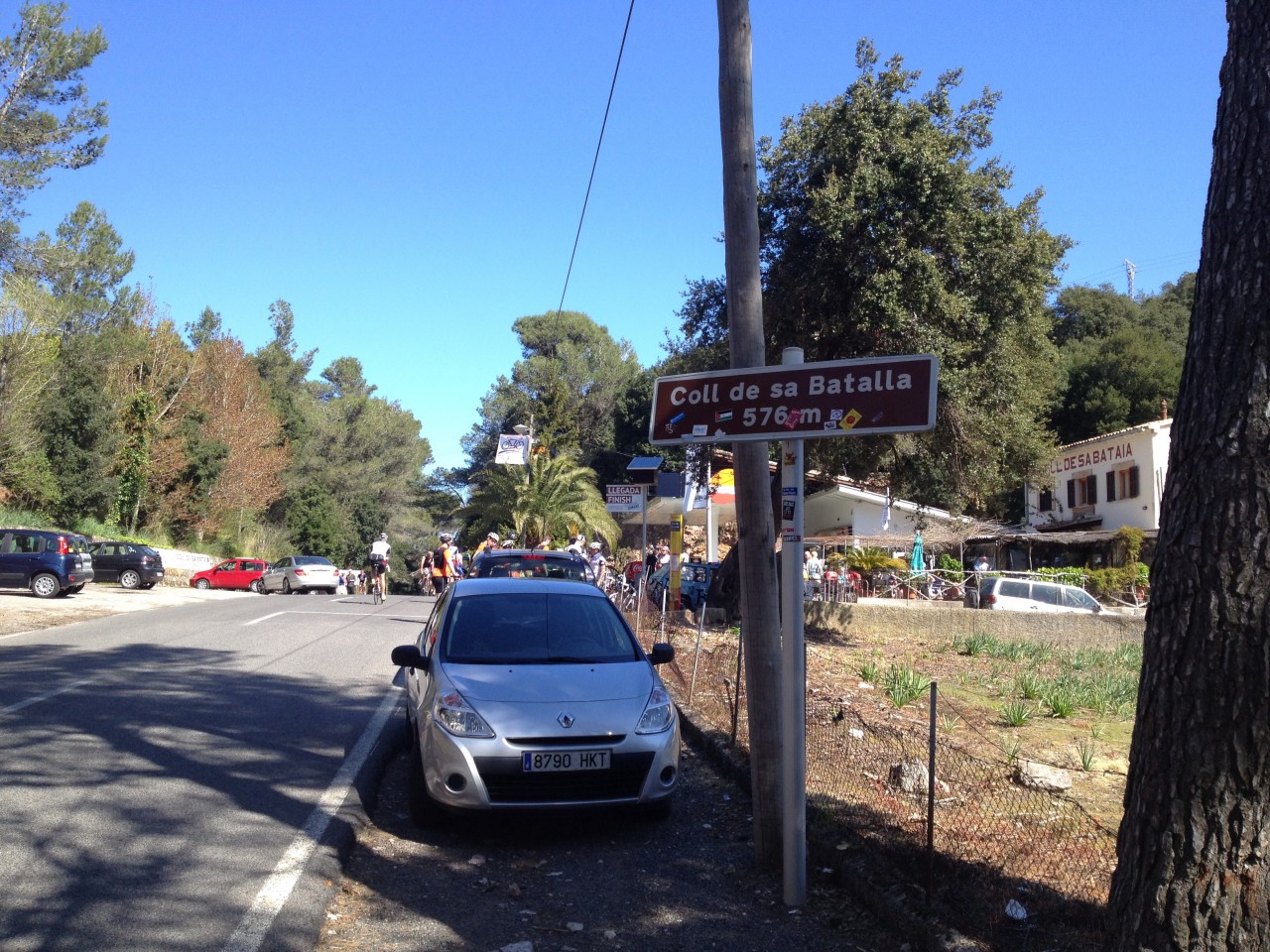 The climb was OK to do, not steep. But at the beginning a lot of traffic, cyclists, cars and busses 🙁 … Fortunately this was over after the first kilometer or so. At the monastery I took an hour to walk around and enjoy the location and scenery. The day: 100,6 km (I had to do some detours, otherwise I would have been back with only ~85km), estimated 1200m altitude and 24,2 km/h average speed.
Thursday was then a slow "rolling out" tour: 61,7 km with estimated 500m altitude and 25,7 km/h average speed. A short visit at the Roadbike Festival, which started on this day. But only "window shopping" and checking out the new stuff… nothing to buy (forgot the credit card in the hotel).
For me this was pretty hard training. I had done only 3-4 small rides before going to Mallorca, not enough as preparation, and Jürgen's tours were tough. But I really enjoyed it!!!
Summary:
13 Tours with two top runs
1.505,8 Kilometers
62 hours, 20 Minutes pure cycling time
18.450m of altitude
For the following weekend, I will just rest and leave my legs to recover. But I already look forward to the next time. 🙂